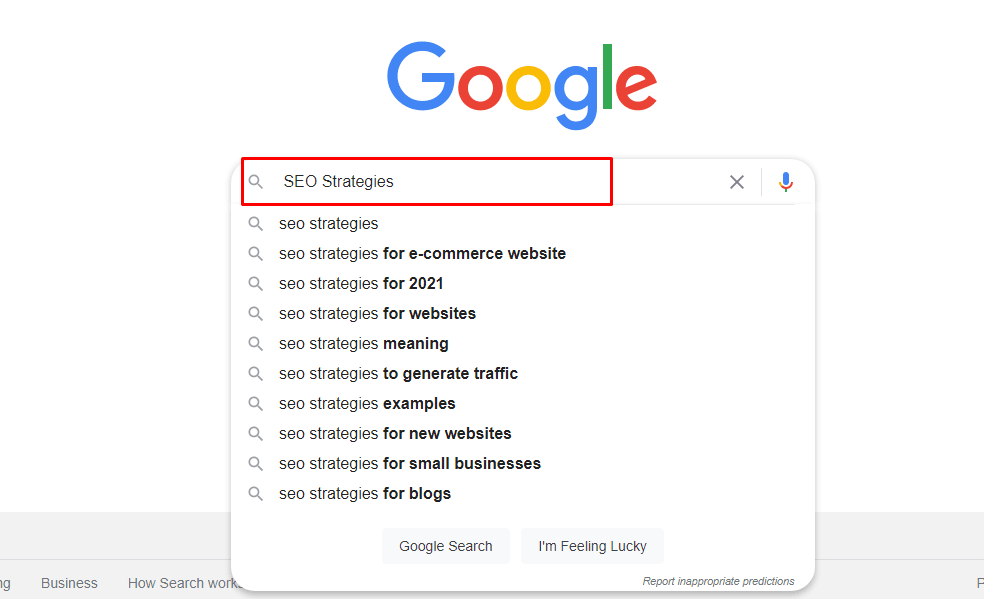 If you've ended up on this blog post, we'll assume you are running a business or seeking to start one and want to learn about local SEO to attract visitors from your local surrounding. In that case, you're in the right place.
In this guide, we will walk you through some powerful SEO strategies that are known to work for local businesses. Moreover, they are great if you want your business to be found in local search results and generate high-quality traffic. So, let's get started!
How exactly is SEO Beneficial for Local Businesses?
Let's understand this with an example. Did you ever try searching out on your search engine "Best Italian restaurants near me?" And you found a list of restaurants in proximity to you. What did you do next? You picked out a restaurant that had great reviews and probably made a visit the very same day. Well, that's exactly what SEO does for your local business.
Whether it's a restaurant, retail shop, or furniture shop, SEO plays a crucial role in generating customers and conversions. However, if you think you're a small business and having a physical presence may just be more than enough to attract customers; well it's time you rethink that.
For any local business, SEO can be beneficial in multiple ways and can do wonders. To begin with, you don't have to compete with global retail giants; helps target local customers, and helps secure a spot on top of the search engines.
Especially, in this current climate of online shopping, you may just go unnoticed because your competitors are already ahead of you. Therefore, there has never been a better time to invest in SEO and increase your chances of being recognized in your local surrounding.
7 Google SEO Strategies for your Business
Here is the list of the latest 7 SEO Strategies you should try for your local business as well as for your online store. We have collected the top "7 google SEO strategies for 2021" to grow your business and increase your product sales.
SEO Note: All blow mentioned "SEO techniques" will cover 70% of your online business growth, also these "SEO approaches" not only for small businesses, large enterprise organizations, and companies should also implement these techniques. Because these as known as SEO backbone.
Now finally, here are the steps of creating an SEO strategy in 2021:
Step 1:  Use the Google my Business Tool
Step 2: Manage Customer Reviews
Step 3: Ensure Your Website is Mobile Responsive
Step 4: Optimize your Website with Local Keywords
Step 5: Create Relevant Content/Posts
Step 6: Create Internal & External Links on your Site
Step 7: Link your Social Media Accounts
The above-mentioned Search Engine Optimization Strategies will cover mostly all these user queries.
How to start SEO?
What are effective SEO Strategies?
How can I improve my Website SEO?
How I can Rank Higher on Google?
7 Best SEO Best Practices in 2021
Beginners Step By Step Guide for SEO
Local Business Search Engine Optimization Techniques
Step 1# Use the Google my Business Tool
Google my business is a free tool from Google that allows business owners to manage their online presence across search engines. Through GMB listing you become a part of Google's Local Search that enlists businesses nearby and provides information needed to find a specific business. This information includes business addresses, business hours, and customer reviews.
Therefore, establishing an accurate business listing will help you build your business profile across search engines and ensure your products/services reach your audience.
Step 2# Manage Customer Reviews
Another Google My Business tip that is crucial for any local business is managing your Google reviews. You may ask how online reviews can impact your physical business. Customer reviews are inarguably a great way to build your business reputation and boost your authority in Google's eyes. Therefore, managing your negative and positive reviews across platforms can ensure your business retains customers with an enhanced user experience.
Just Like when we search products on google, we found products with different ranking and reviews on google search results. Just like android mobile amazon
Step 3# Ensure Website is Mobile Responsive
According to the survey, 30% of all locations based business searches are through mobile. However, this is a significantly great number and you'll want to make sure your SEO strategy includes website mobile responsive.
If your website does not display on a mobile, this will leave a negative impression on your customers or even more push them to exit the site. They are more likely to move off your website to go with a competitor with a better online presence. Therefore, making your website mobile-friendly is an essential part of good SEO in general.
Step 4# Optimize your Website with Local Keywords
Let's say you run a local pizza shop and you have already had your Google My Businesses Listing account set up. But what is next? Will that be enough? No, it's not.
If you have a website (which by all means you should), it's time you optimize it. In that case, you conduct local keyword research and create content to rank in local search results. However, when conducting keyword research you focus on long-tail keywords that make it easier to rank. You can do this by using tools like Ahrefs keywords research, Google Keyword Tool, and KeywordFX to get insights into metrics.
Step 5#  Create Relevant Content/Posts
Once you have these keywords set up, the next step is to optimize your content with them. Therefore, you will make sure that your homepage and any services page contain these local keywords in the headings, URL, tags, Meta description, and body. Moreover, focusing on local content will not only help you maximize your content marketing but also help you find the relevant audience that seeks your services.
If you keep adding content that solves your customer queries or educates them on your products and services, there's a high chance your rankings grow gradually.
Step 6# Create Internal & External Links on Site
SEO Service Internal links are where you link other pages on your site and external links are where you link other websites-related content to be more authentic.
Also known as off-page SEO, creating external and internal content links help users navigate through your website and also increase the overall value of your content.
Step 7# Link your Social Media Accounts
Creating social media links to your website will help you engage in the local community and can significantly support your SEO strategy. There's so much you can accomplish through social media in several ways.
Social media builds brand awareness
It helps you drive traffic to your website
Ensures you stay engaged with your customers
It boosts trust with potential customers
All Set to Outrank your Competitors?
Many people think local SEO is all about being visible on Google but it's way beyond that. Now that you're armed with these top SEO strategies, it's time to implement them and boost your business in your local area.
Need further help? Contact us and we will help you design a comprehensive SEO strategy for your business and improve your search engine presence.